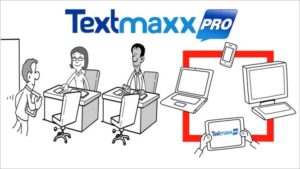 You should know the importance of texting for your business. Whether it's marketing, advertising, sales, post-sale follow-up, or customer service, the first go-to for the customer has become the handheld smartphone.
When you text in response to an inquiry, you can rest assured the prospect or existing customer has received the text, because more than 99 percent of text recipients receive the message, and 90 percent see and read the text within three minutes.
But who and where should they text back? Your existing clients can text a team member on their cell, but most will have your landline number saved in their phone. Your business has likely had a landline number associated with it for many years, and that number is shared on your website and marketing materials and ads. So why not text enable your landline?
Textmaxx Pro's powerful platform does just that. It's the perfect way to communicate with clients and prospects. Consider a few facts. 89 percent of customers today prefer text communications with businesses, and those communications result in a 40 percent higher conversion rate.