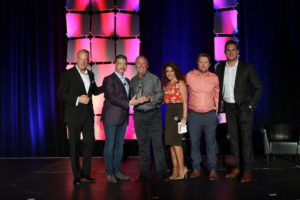 ORLANDO, Fla. — The fact that 88 percent of all business calls go unanswered on the first try was well understood by the Tech Tank competition audience members during the 2019 Digital Dealer 26 Conference and Expo,who voted the Sarasota, Fla.-based national technology firm, Textmaxx Pro, the winner of the fun and informative contest.
Digital Dealer 26's Tech Tank held April 10 challenged five leading automotive retail technology firms to detail their technology and its value proposition to business owners in a fast-paced competition. Each contestant had just three minutes to introduce their new product, and then answer questions from three industry experts for an additional three minutes. When the presentations were over, several hundred audience members and the experts voted using a text message application to decide the winner.
Chris Leedom, CEO of Textmaxx Pro, used just two visual slides and one visual aid, a cell phone, to detail the power of texting to effectively communicate with customers and prospects.
"My guess is that nearly everyone in this room has texted several people since the lunch break," Leedom said to the audience members that nodded in agreement.
Leedom told the audience he called upon his decades of experience as an entrepreneur and CEO of a nationally recognized consultancy practice to develop Textmaxx Pro. The cutting-edge, technology platform allows businesses, including auto dealers, to communicate directly with customers and prospects in one-on-one conversations as well as the ability to market their business using SMS (texting) technology using broadcast texts.
Textmaxx Pro's Tech Tank competitors included a digital F&I platform, a new website development solution, and two digital marketing platforms.
Leedom told the audience Textmaxx Pro's main value proposition was the ability to communicate effectively in near real time with customers. While 88 percent of business calls go unanswered, the opposite is true of text messaging. About 93 percent of SMS messages are read within 10 minutes and a return text is usually sent within 20 minutes.
"It's the preferred method of communication for most people across virtually every demographic," Leedom said. "Setting appointments, gathering information, marketing, and much more can be accomplished with lightening efficiency. Quick and effective communication with your customers dramatically improves customer service and profitability."
Two of the main points Leedom addressed were likely what won the audience over. The first was legal and regulatory compliance. Using a texting platform to text clients is regulated by the Telephone Consumer Protection Act and carries with it hefty fines for violations. Textmaxx Pro's platform text enables any business landline or other designated phone line, Leedom said, and that is the number that appears on the customer's phone. The platform archives the entire body of texts for 5 years to protect all parties and comply with necessary statutes. If a customer opts out of the service, no one but the customer can get back on the platform. "We designed this product to help businesses harness the power of texting while ensuring compliance."
The second value that intrigued the audience was the pricing structure. Leedom said the pricing varies by the number of texts sent out and is scalable to any size business, so monthly fees for any size operation are refreshingly low, typically between $100 and $300 per month.
One of the industry experts asked about integrating the system with the dealers DMS and CRM platforms.
Leedom said Textmaxx Pro is integrated with several very large DMS platforms and the API can be integrated easily with any existing software program. "We are working with software platforms all the time on full integrations. Our API can integrate with virtually any software product."
"It was a great format and a lot of fun," said Leedom of Tech Tank. The three industry experts asked great questions that were certainly of interest to the dealers and managers in the audience. "There were strong competitors with great presentations, and we were pleased to come out on top."