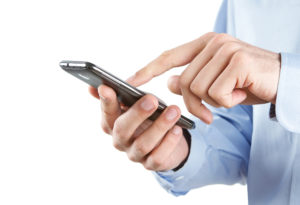 Synopsis: Automotive retailers must adopt a text message strategy to communicate with their sales and service customers and prospects, and even their employees, or face losing marketshare to competitors that have one.
SARASOTA, Fla.(June 19, 2019)— Automotive retailers who do not adopt a text message strategy to communicate with current and prospective clients will be at a serious disadvantage against retailers who utilize SMS messages in their advertising, marketing, and as a top means of communication.
Chris Leedom, CEO of the Leedom Group, which includes Textmaxx Pro, a web-based text messaging solution for businesses to reach their clients and prospects via text, said recent studies showing the breadth and power of text messaging are stunning, and point to the absolute need for automotive retailers to adopt a strategy.
"Think about it," Leedom said. "If you leave the office for an hour for lunch, you're likely to have four or five text message sessions, perhaps using text messaging to order your meal, before you return to the office."
Today, 292 million people in North America, about 80 percent of all residents, use text messaging daily. Despite having a phone in their hand or pocket, people will respond more quickly to a text message than a phone call or voicemail.
"Ninety-three percent of those receiving a text message will see it within 10 minutes, where a phone call results in a leaving a voice mail 87 percent of the time," Leedom said. "Obviously, it's vital when setting appointments, marketing specials, and asking for reviews, that the customer actually receives the message. Think about the telephone solicitations, mailers, and spam emails you receive and what happens to them. When you send an employee a text message, you can be certain, he didn't "miss the call."
Over the next five years, there will be unprecedented growth in the availability of 4G and 5G telecommunications. Globally, two-thirds of mobile connections will be on high-speed networks, and researchers predict 6 billion people will send and receive SMS text messages by 2025. In the U.S., 92 percent of adults carry text-enabled phones, and of those, 98 percent text daily.
"Even though the data shows that texting results in far greater engagement and is utilized by nearly everyone, only 14 percent of companies employ texting to communicate with consumers," Leedom said. "Dealers who have a text marketing and communications strategy in place definitely have an edge over their competitors."
Appointment setting is one key area where texting shows its strength. Both sales and service can not only set the appointment via text, they can send a calendar appointment, with a phone number hot link, and set reminders for the customer.
Leedom said the award-winning Textmaxx Pro's data and analytics show that some dealership service departments set and confirm 70 percent of their appointments via text. Dealers, he said, who have marketed their phone numbers for years should consider a text-enabled landline, so that service advisors, sales people, and managers can reply and engage the consumer from their desktop computers or mobile devices.
"When choosing a text platform to partner with," Leedom said, "you should be sure the provider can  text enable a land line. It's important, the texts are directed to the right person so messages can be replied to quickly."
Other tips to consider when selecting a texting platform partner include: Telephone Consumer Protection Act compliance; easy-to-use dashboard with web access; warehousing of all communications; automation for appointment reminders and broadcast messaging for marketing; and an app for both iPhone and Android devices.
"Employees can use the app on their personal mobile devices to communicate with the customer which saves dealers thousands," Leedom said, "but when they leave your employ, you can simply disable their credentials. You still have retained the history of all texting activity. This is important for a variety of reasons, but most importantly, it's great for future marketing activity as well as keeping all records stored per the TCPA."
Research shows that text message communication isn't just vital because it's popular, it's necessary because it's more effective. Leedom noted that studies have shown that by next year, 2020, 85 percent of interactions between brands and customers will be managed without speaking. Already, 97 percent of companies found they communicated with consumers more efficiently after launching texting initiatives.
"Early adopters, such as insurance agents, especially claims adjusters, use text messaging to send quotes and gather information for claims," Leedom said. "When there is urgency, as with a vehicle accident claim, agents report consumers respond to text in a matter of a few minutes. Texting simply makes communication faster, more efficient, and more effective.
About Textmaxx Pro
Textmaxx Pro is a national firm based in Sarasota, Fla, and provides businesses with an automated, compliant, easy-to-use, web-based, text messaging solution that enables them to reach their clients and prospects via text. It provides a full-service platform that is easily integrated into any CRM, and fully compliant with the Telephone Consumer Protection Act.
Contact
Chris Leedom
CEO, Leedom Group
Phone: 941.371.7999
Email chris@leedomgroup.com
Text: "CHRIS" to 95000